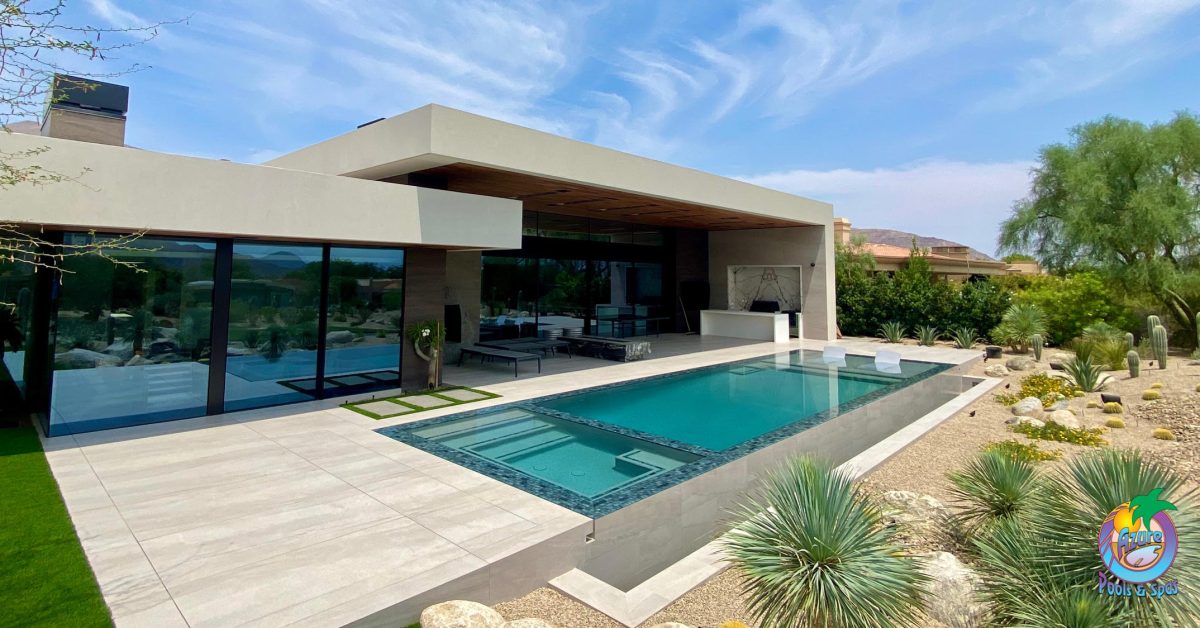 Currently, in the United States, there are over 10 million residential pools.
If you are not one of the people who own a pool, you may have been thinking about it and want to add a pool to your home. If that is the case, you have many different pool design ideas to choose from.
However, it is important to take into account the size and shape of your backyard as well as the purpose of your pool when designing your pool. Here are a few ideas to get you started.
1. Pool only or Pool And Spa
When you think about your pool design, you may not automatically think about including a spa. However, if you are entertaining, you may want to think about including a spa when designing your pool.
This is great for hanging out on a chilly night, creating a nice ambiance, a spa can add another elevation to your yard as well as don't forget how good it feels to relax in one with the jets after a hard day's work.
Spas are not really easy to add on later or cost-effective to do that way, so if you are considering one, with the original construction is the best time to do it.  
2. Freeform Pools
Freeform pools (typically curvy) tend to be a bit more organic like a natural oasis. There is not a specific shape for this style of pool, hence the 'freeform'.
Our professional design staff is ready to help you determine what shape will work best in your space.
3. Linear Pools
A linear pool (more straight lines) is a great pool design to have in any space, however, with a limited outdoor space linear pools really are the best option in our opinion.   They allow you to maximize your space as opposed to a freeform which will make the design a bit narrower to get a shape/style out of the pool.  The best thing to us about a linear pools is they are timeless and never go out of style.  
4.  Perimeter Overflow Pools
If you want your backyard to feel like you are at a resort, then when you design your pool, you want to keep that in mind. There are specific shapes and sizes that can resemble a resort.
One of those options is a perimeter and overflow pool. This gives the effect that the pool is never ending when you are in it.
This also creates an entirely new dynamic for your backyard and your landscaping ability.
This style of pool is the Lamborghini of pools. You will need a larger budget for this style of pool and larger space as well as they will require a bit more maintenance. So, keep that in mind.
5. Design and Budget
Pool Design Ideas are not always as easy for the homeowner to figure out what works in their space, where the mechanical equipment will go, and even how far away the pool has to be from the house, property lines, or any other structures.  Hopefully, this list and our work in our gallery will narrow down some likes and dislikes to get started and our design team is here for you to help create that space you have always dreamed of.  
Another thing to think about is how much are you prepared to invest into this extension of your home and year-round lifestyle.   As of January 2023, pools alone (no spa) can range from approx. $45,000 and up depending on the size of the pool, features – lighting packages, heater/gas line, water features, decking and materials [tile and type of decking], etc.
For pools and spas, either linear or freeform the cost is based on the size of the pool/spa, access, length of plumbing runs for plumbing and gas / electrical, how much decking (patio space), type of decking (concrete vs. pavers), tile, water features, etc.  For both a pool and spa a starting range is closer to $65,000 +
It is difficult to ballpark projects so the best way to know is to have a pool professional come to your home, measure, and discuss with you your lifestyle and needs, your taste and we will help create a fantastic pool or pool/spa for you to enjoy and let you know how much it will be to build your dream pool.   
Azure Pools & Spas, Inc. also works with lenders to finance all or part of the project so you can keep your funds in your investment accounts or liquid.   There are no prepayment penalties and favorable terms on approved credit. 
If you are ready for a consultation to create your dream pool, please contact us at Azure Pools & Spas, Inc. right away to bring this vision to life.